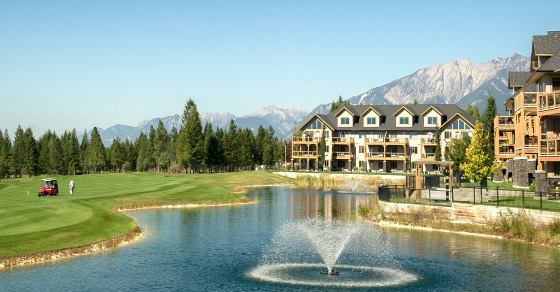 The Bighorn Meadows resort is a smooth 2.5 hrs drive from Calgary International Airport. You'll find the Bighorn Meadows resort adjacent to the Radium Springs golf course in the scenic little village of Radium Hot Springs.
Free with your stay are the beautiful vistas of the Purcell and Rocky Mountain ranges. You will also enjoy their cozy fireplaces (hopefully not in the summer), high end furishings and a seasonal heated outdoor pool and hot tub.To make your Bighorn Meadows Resort stay more enjoyable, free wi-fi, free parking and concierge guest services are included with every stay. Each unit also includes a starter supply of Starbucks coffee, laundry soap and fabric softner.
Accommodation choices:
Guest Rooms:
The guest rooms are similiar to a hotel room and feature an open concept living and sleeping space and are the only non-suite accommodation option offered at Bighorn Meadows Resort.
These rooms are great for the budget concious traveler.
300 sq ft
Free Wifi
1 bed (king or queen)
kitchenette
1 LCD TV
Free Local calls
1 bedroom suites:
The 1 bedroom suites are perfect for couples and can accommodate up to 4 people if using the sofa bed. Each unit comes with a fully equipped kitchen, electric fireplace, air conditioning, in-suite laundry and a private balcony or patio with a BBQ. Views from these units vary throughout the resort.
830 sq ft
Free Wifi
Separate bedroom with bath
1 bed (king or queen)
Living room with sofa bed
Full kitchen
1 flat panel TV and DVD player
Free Local calls
2 bedroom suites
These 2 bedroom suites are very popular with groups or couples as they can sleep up to six (with use of the sofa bed). They are air conditioned and feature two private bedrooms with a generous living room to stretch out and relax in. There is a fully equipped kitchen, living and dining areas as well as a private balcony or patio with a BBQ.
1300 sq ft to 1450 sq ft
2 bedrooms – 2 baths
2 beds (1 king and 1 queen)
living room with sofa bed
Central A/C
Electric fireplace
Full kitchen
1 flat panel TV and DVD player
Free Local calls
3 bedroom suites
The 3 bedroom suites are the luxury accommodations at Bighorn Meadows Resort. With the ability to sleep 8 people the 3 bedroom units also have a private lock-off unit. They offer spacious living areas providing you with home like comforts. Suites will vary in layout and style depending on the building you are in.
1680 sq. ft. to 1800 sq. ft.
3 Bedroom & Lock-off suite
3 Bed (1 King, 1 Queen)
Living room with sofa bed
Full kitchen
1 flat panel TV and DVD player
Free Local calls
Central A/C
Electric fireplace